---
John Raleigh
Brightwork Solutions, LLC
139 Woodland Road
Hampton, NH 03842
603-926-6611
jraleigh@jraleigh.net
Looking for an Access Pro? You have arrived at the right website!
Microsoft Access Programmer Available...Call or EMail now...
Access Programming at Brightwork Solutions
(BWS) is a custom database application development company specializing in Microsoft Access with VBA and SQL Server integration. We subscribe to agile coding for all types of data solutions for small to intermediate size businesses. What this means is that we focus on producing working applications over defining detailed specifications and documentation. John Raleigh, the alpha geek is apparently in charge because he seems to do the long range strategic planning as well as take out the trash. The other programmers tend to ignore his rants/soliloquies and focus on getting the real work done.
A Short History...
Since the introduction of the IBM PC in 1981, John's activities have evolved. In the first year, there wasn't much to work with, but he did a couple of jobs for local builders using Lotus 1-2-3. Then, when the first compilers came along, some other programmers joined and it was apparent that the team would specialize in database projects. A short period of Pascal programming lead to expert work in dBase III then Clipper and specialization in database work. Microsoft Windows arrived on the early '90s and this led to an easy decision to go forward with solutions in Microsoft Access.
What does an Access Programmer do?
We often find ourselves explaining to clients exactly what type of applications you can build with Access. Access offers a variety of features for differenct database needs. It is a highly cost-effective means of developing these types of single or multi-user applications: --Small business apps --Departmental apps --Corporationwide apps --As a front-end for client/server apps --Intranet apps --Web applications
How an Access Programmer makes use of the platform
Often described simply as a database, Access is much much more. It is a complete and powerful application development platform that contains its own built-in professonal database. One can use that in a multiuser setup or the Acess front-end can link to SQL Server on a local server or in the Azure Cloud..
Here is a sketch of a simple dual file Access setup...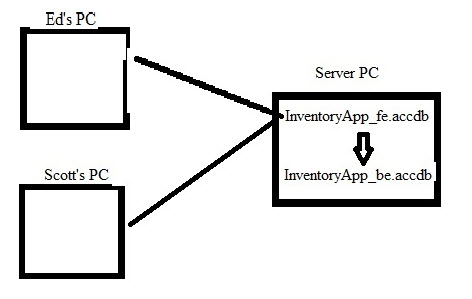 Access is an easy-to-use tool for creating business applications, from templates or from scratch. With its rich and intuitive design tools, with Access you can create appealing and highly functional applications in a minimal amount of time. As with other components of Microsoft Office, Access includes the very powerful programming language Visual Basic for Applications (VBA). In the right hands, this can automate business processes and create more useful forms and reports.
Access is exceptionally good as a reporting tool. With it, you can achieve very presentable designs for --Detail reports --Summary reports --Reports containing subreports --Cross-tab reports --Reports containing graphcs and charts --Reports containing forms --Labels --Reports containing all of the above! But keep in mind that the key to good reporting is developing a correct query under the report.
We recommend a Microsoft 365 subscription to gain use of Access, but we are happy to work with prior version.
Here are some other things we are good at...
Consultation - help with business decisions regarding your database
Table and Schema Design - the backbone of a good database
SQL Server - for your next version
Programming -- We've been at it for over 30 years
Training - Individual or groups. John is a regular presenter at Microsoft meetings
Search Engine Positioning...this is probably how you found us, so it works, right?
Please scroll down to see many of our jobs and references.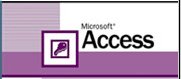 Other noteworthy sites:
Many jobs and references listed below
Access Programmer-Professional Background
Recent Access Jobs
De Mari Pasta Dies
Access Programmer
Consolidated three Access programs into one. This saved users double and triple entry of the identical data elements as well as eliminated typing errors. Updated Access for current technology. They had no queries nor reports. Now they do.

Contact: Giovanni Cannata at 978-758-6311

B and G Foods
Access Programmer
Consolidated four old Access programs into one that is updated for current technology.
Now this major plant on the waterfront of Portland, ME can finally run new Access reports across all product lines and do trend analyses across all years.

Contact: Bob Proux at 207-772-8341

Beacon Recovery
Access Programmer
Because of a complete format change in a large monthly data import, I had to revamp an existing Access program as well as bring it up to current version of Access 365. There were revisions needed for many data manipulation queries and for reporting.

Contact: Stephen Thompson at 978-870-8000 Ext 123

Cardinal Health
Access Programmer
Working for a consultant to Cardinal Health, created a support system in Access 2016 to enable a world-wide rebranding system for all manufactured goods.
The program is heavy on the analytical side with many complex reports.

Contact: Bob West at 207-470-0485

Chaston Associates North Andover, MA
Access Programmer
Created a very involved Access 2013 application to capture and report on loan activity for client banks. This allows Chaston to do a very thorough review of bank risk levels prior to a regular planned SEC audit. The app is heavy on the analytical side with over 20 complex reports.

Contact: Diane Duff 978-686-3688

FPI Inc. (Jonathan Pond, LLC) Newton, MA
Access Programmer
Jonathan is a nationally known financial planner with close affiliations with AARP. For many years, his firm has produced a very substantial and complete set of financial reports and advice based on extensive questionnaires sent in by conference attendees as well as respondents to public TV presentations. Done in VB6 and Borland, the report generation became very slow compared to current technology, but more seriously was breaking down. They lost support from the prior programmer and I was called. On my advice, the firm purchased new hardware and the current version of Microsoft Office. I set them up with a LogMeIn connection so I could transfer editions of my work to their site frequently. This became a content management project with dependence on complex combinations of responses concerning age, family, investments, retirement plans, risk preference and many other items. In some cases one of 50 possible responses were determined to go into a particular report section.

Contact: Jonathan Pond 617-243-0020

Brandywine Materials Bellingham, MA
Access Programmer,
Brandywine is a distributor of disposable plastic static mixers, pneumatic and manual dispensing guns, dual cartridges, syringes, meter-mix-dispense equipment and accessories. They are used for mixing and dispensing epoxy, silicone, polyurethane, acrylic and other adhesives and sealants. I developed a complete management application in Access 2013 for this firm.

Contact: Ed Stein 617-447-0960

Custom Electric Merrimack, NH
Access Programmer
Developed a complete business management application in Access 2013 for this Electrical Contracting firm. A very big feature for this client was getting this to work remotely through Windows Remote Desktop being hosted at a local IT company. Client contractors can go to jobsites with their tablets and using wireless connections to a shared data source (in Access) can input data to the central data tables. In effect, this is classic Access but on the Web!

Contact: Jeff Kibbie 603-424-7557

Becton Dickinson - ADC Andover, MA
Access Programmer
Created a complete Inventory Tracking system in Access 2013. The app's workflow is Receipts toInspection to Transfers of parts to various locations. Reporting consists of a number of queries that include showing all Part quantities at all locations.

Contact: Andy LaBranche 978-901-7344

Novo Nordisk West Lebanon, NH
Access Programmer
Developed an Access 2013 system to handle Purchasing and Receiving of medical parts. This app prints a complex Purchase Order and tracks incoming parts and transfers to various locations.

Contact: Timothy Parker 603-298-3123 or Mike Mayo 603-298-3120

Vartanian Cabinets Palmer, MA
Access Programmer
Created a quoting/proposal utility that replaces those done before in Microsoft Word. Users can select from many categories and materials, some with images and some with extra notes to produce an attractive Proposal with attached Contract for acceptance and signature.

Contact: Aram Vartanian 413-531-5701

American Plant Maintenance Woburn, MA
Access Programmer
Took on support of an Access program that has been in use for several years, but was left in a compiled (.mde) state with no source code to be found. I was able to locate a company in the UK that reverse engineered the front-end file for a reasonable price once all authorizations were signed.

I was then able to take on support and made some early modifications.

Contact: Collin McGeary 781-281-2420

MacNichol Electric, Inc Lynnfield, MA
Access Programmer
Upgraded full-featured business management app from Access 2003 to Access 2010. Fixed several bugs that had been bothering the owner and family staff for years.

Contact: Stephen MacNichol 781-760-7196

Costa Fruit and Produce Boston, MA
Access Programmer
Costa is the largest supplier of products to stores and restaurants in the Greater Boston area. I wrote a complex Costing program in Access 2010 to replace an aging Wang application. It is very much like a Bill-of-materials task incorporating products at 3 to 6 levels of assembly, labor, waste, packaging, and even down to the label.

Contact: Joe Walsh 617-912-8047

TEK Microsystems, Inc Nashua, NH
Access Programmer
TEK Micro designs, manufactures and markets a wide range of advanced high-performance FPGA based sensor I/O processing products for embedded real-time computing systems. I imported their Excel data and wrote an Order Entry and processing system in Access 2010.

Contact: Renee Griffin 978-328-5944

Valescent Health (div of Apria Healthcare) Nashua,NH
Access Programmer
Wrote an Access 2010 application to track Patients, Clients, Procedures and Providers. The schema was of medium complexity with 16 tables but some of them immediately grew to well over 1 million records. As a result, speed of query optimization was identified as being critical. I migrated all data to SQL Server and performed stress testing before turning the project over to the users.

Contact: Geoffrey Keegan 603-880-4464

Leggat McCall Properties Boston,MA
Access Programmer
LMP delivers complex real estate projects as investors, project managers, and advisors. I developed an Access 2010 program to handle their large real estate projects. In addition to the tracking of Projects, team members, and allocation of staff time, I developed an extensive reporting scheme.

Contact: Allison Nunn 617-820-2147 or Don Birch 617-422-7007

Maximus Hartford, CT (also NY, Maine)
Access Programmer, SQL Server
Maximus is a substantial IT consulting firm serving primarily the government sector. As part of their team working for the State of Connecticut's Department of Social Services (DSS), I created a program in Access 2003 to replace a large and intricate set of Excel spreadsheets that managed Temporary Assistance to Needy Families (TANF) as well as Child Care and Development Fund (CCDF).

There are 12 Agencies involved in this within the Connecticut DSS with names such as Dept. of Children and Families, Dept. of Corrections, Dept of Labor, Judicial, Office of State Treasurer, and so on. Each has many programs and subprograms and is served by many providers. The need was to unify all this data and allow systematic quarterly imports of data from many sources to replace all the manual spreadsheet manipulations that went on before.

An additional task was to create complex Access forms that allocate monies from various funding streams to these programs and then estimate what would be required for the following fiscal year. The program also distills all the actual distributions into two formal annual reports named ACF-196 (TANF) and ACF-696 (CCDF).

Earlier Access Programming jobs:
Oct 2004 - Dec 2004
Disetronics Sterile Products Portsmouth, NH (also NY)
Access Database Programmer
Contact: Glen Stadig 603-427-5511 Ext 227


Disetronic is a subsidiary of Hoffmann LaRoche. In a clean-room environment, they manufacture clinical devices, especially insulin pumps for diabetics. They had a pressing need to improve the tracking of numbered work lots to track the entire manufacturing cycle. We divided the4 work into two major tasks: Warehousing and Production.

As Einstein once said about hypotheses, "Make it as simple as possible, but no simpler." Before doing any coding, we spent the first week just designing the data schema needed to support both sides of their world. With this careful analysis, we were able to do the job with a minimal number of tables. The schema was reduced to a core set named tblLotMaster, tblWarehouse, tblItemMaster, tblSuppliers, tblTransactionLog, and just a few other lookup tables.

Oct 2004 - May 2006
PAX World Funds, Portsmouth, NH, Stanton, MO, Schenectady, NY, Portland, Maine (Access 2003)
Access Programmer
This mutual fund company hired me to finish the work started by a previous Access database programmer. The program tracks commissions owed to brokers all across the country on all kinds of mutual fund transactions. A quarterly import of data is required and I automated this to make life easy for the administrator (Michelle). I later took on Access projects in several other departments. PAX continues to use me for general database support.

Oct 2004 - May 2006
UNITIL, Hampton, NH (Access 2003)
Access Database Programmer
This is the local electric company. They have a program called Demand-Side Management (DSM) that imports data from a wide variety of formats from many vendors. Formerly, it took a serious and tedious effort to handle all the different import and data transformations and calculations in Excel spreadsheets. This was quite tedious and error-prone--in fact there was a huge backlog of data to import. I automated this using Access.

Dec 2003 - May 2004
Fisher Scientific World Headquarters, Hampton, NH and Albany, NY (Access 2002)
Database Programmer
Now named Thermo-Fisher, this major supplier of laboratory instrumentation and equipment had a dozen Access databases containing the results of multiple Quarterly Customer Satisfaction Surveys. They needed a data-aware programmer to unify this data and migrate it into one so that it could be properly queried and reported on and so information across quarters and across divisions would make sense. After merging all data into one set of normalized tables, I have achieved functional equivalence. I am proceeding to rewrite existing queries and add new queries/reports to address the new simplified schema. We are doing this in such a way that an eventual merge of this "seed" data will easily transform into a full CRM system by means of migration into a Siebel ODS (Operational Data Store).

Jul 2004 - Oct 2004
ProTracker, Inc., Hampton, NH, Chicago, IL (Access 2003)
Access Database Programmer
ProTracker is a software development firm with a product of the same name offered to a market consisting of Financial Planners. Data needed to be imported from their ECommerce website into a local database, and then out to Peachtree accounting.

Feb 2004 - May 2004
Acme Brick Company, Sealy, TX (VB.NET, ADO.NET)
DotNet Programmer
A large brick plant just outside of Houston located us by searching for our skillset on the Web. We created a quality control program for their production engineer using DotNet technologies that monitored a high resolution video camera. This camera was continually focused on a production line of precured and precut bricks called a "slug". Periodically, the line operator clicks a button to take a picture of the line going by at 1 foot per second. Our software grabs a frame from the continuous video stream and displays it on a color monitor side by side with a picture of a known high quality standard for that particular style of brick. Depending on the visual comparison, the operator can take appropriate action such as calling for a change in mixture or other operating parameters. If quality is good, he simply does nothing. We log the picture taking events in order to track the operator taking pictures on a prescribed frequency. Hidden from the operator, there is a secured maintenance module so the engineer can periodically check the log, add new standards, tune the camera settings, and perform other data management features.

May 2003 - June 2003
Tyco International, Exeter, NH and Portland, Maine (Access 2002)
Access Database Programmer
A local programming house named Compass Systems and Programming created an Employee Performance program in Access that is deployed at 100 worldwide regions. There were two very different versions done in Access, one for upper management and one for everyone else. I merged the two code bodies and reproduced all the pre-existing functionality.

Just for fun, I changed some 'employees names and ids and published a subset of the data to our password protected .NET website in an editable datagrid. I did this to demonstrate our skills with DotNet and to show the value of centralized, up-to-date, and secure data as well as XML and web services. Currently, like so many others, Tyco exchanges data between regions via EMail attachment of Excel spreadsheets.

Feb 2003 - May 2003
BMR Thermal, Hampton, NH and Maine (Access 2002)
Access Programmer
BMR is a regional sales office for a major West Coast supplier of furnace/boiler equipment. I analyzed the Excel spreadsheet system they had been using to manage the regional sales activities and built a completely new territory and customer management system, including parts inventory and history. I provided easy links from an Access app to Word documents for quotes and order processing under a MailMerge subsystem.

Feb 2003 - June 2003
Big Brothers-Big Sisters, Exeter, NH
Access Database Programmer
This is a highly visible branch of a nonprofit organization that matches and places underprivileged or troubled children with mature and stable adult mentors. The staff needed to migrate their Excel-based data collection into an Access database that would coordinate their activities and take them into the future. I did that plus providing links to the national database which resides on the Web.

Aug 2001 - Oct 2002
UnumProvident Insurance, Portland, Maine
Access Programmer
Created and tested two Websites for HR. One that allows employees to register questions regarding their benefits and which sends EMail to a UNUM HelpDesk and one that allows employees and retirees to view their pension benefits. Used Visual InterDev, Visual Studio/Visual Basic, and MS Office components, SQL Server7.

Pension Administration. As part of a large team of pension managers, analysts, and technicians, I managed a transition of a large database involving over 30,000 current employees plus retirees (pension annuitants) from an outside vendor to in-house usage. Used Microsoft Access and Visual Basic.

Jan 2000 - Jul 2001
State of NH, Concord, NH
Access Programmer
Created WIA Tracking and Reporting System (Dept of Labor mandated)
Created Dept of Youth Services Tracking System.

Sep 1999 - Nov 1999
Holyoke Mutual Insurance, Salem, MA
Access Developer in Access 97. (Contract)
Created complete multiuser system to track all Agents, Staff, Lines of Business, Agent Evaluations, Business Volume, and other entities.

Sep 1998 to Feb 1999
Cabot Corp., Billerica and Boston, MA
Access Programmer
Using a wide variety of modern tools on a Windows NT platform to render enhancements and support to five major areas:
1) The company's WinLIMS application, a globally used lab sample/results/finance tracking system
2) The Analytical Billing System (ABS) and 24 other lab-oriented Access databases.
3) Y2K compliance studies of all systems
4) Long Term Incentive (LTI) program developed from scratch in Access.

July 1998 - Sep 1998
State of Mass. Dept of Public Health, Boston, MA
Women, Infants, Children program ("WIC")
WIC is a statewide program (140 sites) administered with complex software written in Clipper 5.2. This was primarily a Y2K job which used my Clipper, Access, and VBA skills to thoroughly analyze the system to insure that no little children will starve after 1999.

May 1998 - July 1998
Cambridge Technology Partners, Cambridge, MA
Senior Developer for globally deployed Sigma Sales Software
Visual Basic and Access 97 used to enhance this large Siebel Systems Sales Management system. Client/Server with Windows NT/Oracle.

Jan 1998 - Dec 1998
Liberty Mutual, Dover, NH
New Life Business System
Full life cycle development of this complex data mining and reporting system including fully automatic downloads from their mainframe. Extensive use of SQL and very complex joins of up to 30 tables/ queries and subqueries. Liberty continues to call me in to add new reports and tweak older ones.

Mar 1996 - Jan 1998
The New England, Boston, MA
Lead Designer/Programmer for Sales Illustration Software
3500 life insurance agents and brokerages around the country depend on this complex multi-product software which was written in Turbo Pascal. Although The New England has a more powerful Windows product, the older (legacy) code must be maintained at least through 1998 since many of their user sites are not Windows capable.

Apr 1994 - Mar 1996
Watson Wyatt Company; Wellesley, MA
Contractor/Programmer in Compensation Analysis and Flexible Benefits
Wyatt's Boston office is responsible for the maintenance of elaborate Human Resources software, called WyComp. There are Clipper and Access versions installed at many worldwide Fortune 500 client firms, hospitals, and universities. While on contract to Wyatt for a year and a half, I made extensive modifications and wrote many new utilities. I was responsible for design, coding, testing, customization, and maintenance updates on complex multiuser software. I served as technical expert on phone support as well as field trips to client sites with the the HR consultants.


Independent Database Programming:
2003 - Present
Working from my own company: BrightWork Solutions, Hampton, NH
A technology consulting company specializing in web design and improvement, search engine positioning (SEP) The firm's specialty is the science of Website Optimization that provides increased web visibility and traffic. We create this by understanding and working with the ever-changing search engines that are constantly indexing the World Wide Web. With our associate programmers, we have over 80 years of combined experience.

1982 - 1994
Working from my own company:TT&T Corp, Hampton, NH
Microcomputer applications development company. Wide variety of jobs focusing on Clipper, Basic, C, and MicroFocus Cobol programming, about 35 Novell network installations, and many accounting installation and training. Over 12 years of experience with about 300 clients including Fortune 500 firms, the local police network, and the "store on the corner". Please see Addendum of programming abstracts.


Salaried Programming (way back):
1981 - 82
Topper Footwear, Portsmouth, NH
Systems Consultant/Programmer/Network Administrator
Complete MIS responsibility for major footwear manufacturer/importer. Managed ten network nodes and users and did extensive programming modifications in COBOL to Inventory Control and Order Entry.
Formal Education
Chemistry (Math minor): Bowdoin College (BS 1966)
Chemical Engineering: UC Berkeley 1969-70 2 yrs on campus
Computer Science: UNH 1984-85 2 yrs on campus 20 units of core computer science
Computer Science: 1995 MCP (Microsoft Certified Professional) - Access
Computer Science: Northeastern Univ 1997 - Advanced C course
Computer Science: NH Technical Institute, Concord, NH 2003 - DotNet (.NET) 6 day course

The Ten Commandments of Access Programming (smiling)
And it came to pass that the cries and lamentations of the Access newbies were heard on high by the Database gods, and their hearts were moved to pity for their followers. And they opened their mouths and spake, saying: "Nevermore shall the young and innocent wander witless on their journeys! We shall provide guidance to them, yea, and to all who wish to seek the paths of wisdom." And they caused these commandments to be written and placed before the eyes of those seeking enlightenment. So heed the words of those who have come before you, and keep these commandments in thine heart as thou dost create thy Access database application. If thou shalt only follow these commandments thy burden shall be made light and thy path shall be made straight.

1. Thou shalt design normalized Access tables and understand fields and relationships before beginning.
2. Thou shalt never allow the users to see or edit Access tables directly, but only through forms and thou shalt abhor the use of Access "Lookup Fields" which art the creation of the Evil One.
3. Thou shalt choose a Visual Basic naming convention and abide by its wisdom and never allow spaces or special characters (except underscore) in identifiers.
4. Thou shalt write comments in Visual Basic procedures and explain each Access variable.
5. Thou shalt understand Visual Basic error handling and use it faithfully in most Access procedures.
6. Thou shalt split all Access databases.
7. Thou shalt not use Autonumber if the field is meant to have meaning for Access users.
8. Thou shalt not copy and paste other people's Access code without at least attempting to understand what it does.
9. Thou shalt never use "SendKeys" or "GoTo" (unless the GoTo be part of an OnError Access event)
10. Thou shalt back-up the Access database faithfully

Back to top